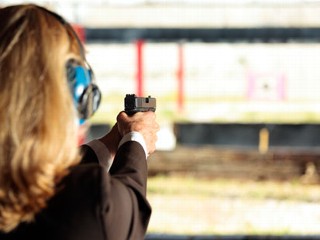 Just like any sport, becoming a good shooter requires consistent practice, proper training and a coach to guide you through the rough spots. Orange County Indoor Shooting Range offers training courses to assist you in becoming a better and safer shooter. Our training staff has many years of experience with shooters of all ages. Come by and ask a range officer or member of our training staff for more information.
Ammunition used in our training classes must be purchased at the range. You can purchase either our commercially remanufactured ammunition or factory range ammunition.
The cost for ammunition and targets varies depending on the caliber and type of target(s). You may ask for a cost estimate for ammunition and targets when registering for a class.
Training Classes
---
Basic Firearms Class
Whether you are interested in recreational shooting, competition, hunting, gun collecting, historical reenactment, home safety, or personal protection - the basics are where to start! The Basic Firearm Training Class teaches you safety principles and helps you develop the knowledge, skills and attitude needed to successfully pursue your shooting interests. All classes are tailored to meet your specific needs.
Using the NRA training method of Total Participant Involvement, The Basic Firearms Class provides hands on learning opportunities in the following areas:
Safe firearm handling
Firearm parts and operation
Ammunition and its function
Shooting fundamentals (including an opportunity to develop them on the range)
How to select, clean and store a firearm
Follow through
Proper Stance, Grip and Breathing while shooting
Trigger Control and Sighting Methods
Identifying problem areas, difficulties and bad habits that limit your shooting ability
Review of various activities available to help participants develop and improve their shooting skills
---
Private Lessons
$100.00 per lesson - includes 30 days pass to the Range
Approximately two (2) hours of instruction both classroom and range
Use of three to five (3-5) firearms
Includes all ammunition, targets, ear and eye protection
---
Group Lessons
Group lessons are suspended at this time. We apologize for the inconvenience.
---
Security Guard Training and Firearm Qualifications
Contact the range for additional information.
CCW training and LEOSA:
---
For more information or questions on any of the lessons, please email us at